The First Parish Church members were elated on Sunday November 18th, 2018 to be a part of the groundbreaking ceremony for renovations to their over 300-year old Church buildings. Approximately 200 parishioners gathered outside of the Pilgrim House, following Sunday morning services. Todd Rider (a parishioner for 17 years and member of the Church Council) began the ceremony by thanking everyone for their dedication and effort to assist in the project.
The project was first discussed almost fifty years ago, when the Church realized that they were in need of an elevator. After not getting the funding needed, the project sat on the back burner until 2018. First Parish Church has been working with Scott Simons Architects since 2009 on other church projects, and most recently on developing the plans to make their vision for this particular project come to reality.

Many raised their hands when asked
if they had helped in anyway with the church renovation project.
The children raised their hard hats as
she acknowledged their participation in the project.
Almost all hands were raised, as First Parish Senior Pastor Mary Baard asked those attending the ceremony to raise them if they had helped in anyway with the renovation of the Church. The children raised their hard hats as she acknowledged their participation in the project. Mary thanked Ledgewood Construction and Scott Simons Architects for helping them make this project come to fruition.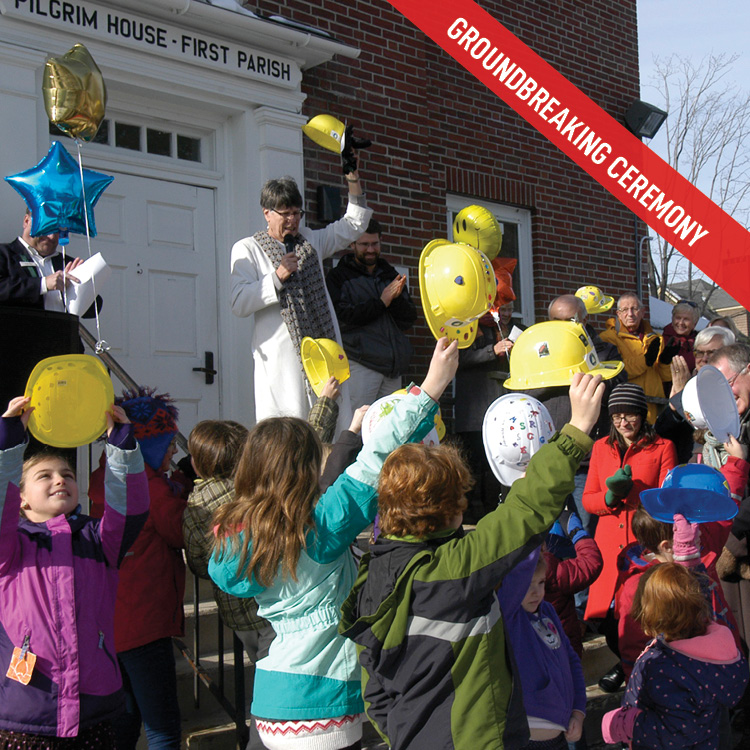 The construction will complete many much-needed ADA upgrades to Pilgrim House by including a 1,300 SF addition to the existing building. The new space will have a basement and two floors with a 4-stop elevator to allow for handicap access to all three new levels, and the existing main entrance. New restrooms will be part of the new addition. Additional renovations will be made to the kitchen and sanctuary area.
The history of the First Parish Church has been linked with the town of Brunswick and Bowdoin College from the beginning. When it first opened in 1717, everyone in the town of Brunswick were members of the church. Bowdoin's first class graduated from the church, while it was under construction during a rain storm. Many famous people have visited the church, including Harriet Beecher Stowe, Joshua Chamberlain, poet Henry Wadsworth Longfellow and Eleanor Roosevelt and Martin Luther King Jr., who spoke at the church in 1964 during the height of the Civil Rights movement.
As the countdown began for the groundbreaking, the church bells rang in perfect unison. Active members of the building committee lifted their shovels in symbolism for a project about to begin.
The project is scheduled to be completed before the summer of 2019.