Regardless of the size of the construction project you are looking to undertake, you're going to want an expert by your side that can help you along the way and help to make sure the job is done right. For many construction projects and capital projects, the smart choice will be to work with a construction manager.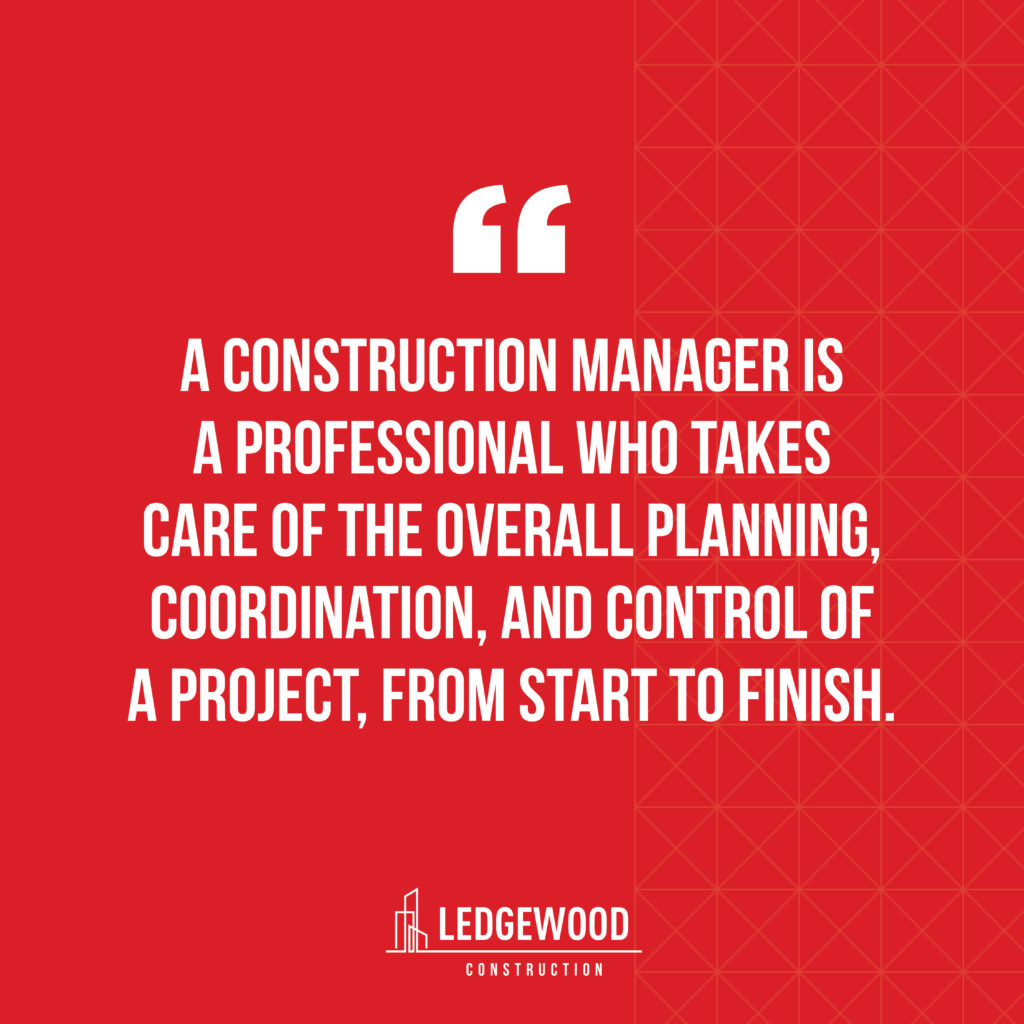 A construction manager is a professional who takes care of the overall planning, coordination, and control of a project, from start to finish. While they are similar to a general contractor – and some of them may even have been general contractors previously – they do not make their money on the contracting itself.  So why should you opt for doing your next project via a construction manager?
They are experts at cost management. From the outset, they will have your budget in mind as a non-negotiable point. On-time and on-budget are two constant constraints that never change for construction projects. A construction manager will control all resources that affect the bottom line – if something comes up that could impact your budget, it is the construction manager who will offer suggested changes (value management) to offset any surprises that may come up.
They ensure that quality is met throughout the project. Particularly with a project that may employ dozens of subcontractors and outside vendors, you want someone on your side that can apply the same discerning eye to every facet of your project, whether it is the cement foundation or the final decorative touches. A construction manager is well-versed in quality inspection, regardless of the trade involved. They are the ones ultimately responsible for ensuring that all aspects of the projects are right, and that everything is top quality when the project is handed over to you and the other stakeholders.

They are safety gurus. There are plenty of potential safety hazards on every construction site. From slip and fall dangers, to electrical issues, to flammable objects and solvents, the person in charge of your project needs to be aware of these issues, draw up plans to deal with them, invest in the appropriate safety equipment and signage, and implement safety programs. A construction manager has built up experience over the years, they have seen situations, and they have learned from them. They know how to teach safety and guide team members towards making the right safety choices. This keeps your project site safe, and gives you confidence.
They enable comprehensive communication between every party involved. Aside from the dozens of subcontractors and vendors, as well as their employees, there are numerous stakeholders in the project that need to be kept abreast of what is going on, and the project owner or owners will want to be up on the latest project details as well. A construction manager is the centralized point for communication on a project. All the information from workers and subcontractors comes to them. The construction manager is the one who takes that information, draws up reports, and speaks with the stakeholders and owners regarding the risks or successes happening on site. Similarly, any changes, requests or concerns on the part of the stakeholders and owners are communicated to the construction manager, who then takes those to the appropriate subcontractor.
Their time management skills are exceptional. They will be able to plan out processes, how long they should take, and stack process to make sure they do not interfere with each other but they can run as early as possible. By scheduling subcontractors to conduct tasks at specific times, they will keep the project on schedule. Should an emergency come up, or should a subcontractor fall behind schedule, a construction manager knows how to motivate them to catch up, or how to adjust other tasks to accommodate for the delays but keep the overall project on track for the due-by date.

They are there from day one. The right construction manager will want to be the first one onto the project, and the last one off. They can assist in selecting the designer, the architect, and the subcontractors that will work on the project. They will be there to set the pegs so that everyone knows what the project encompasses, to avoid scope creep later on.
They sort through contracts for you. With lengthy contracts and plenty of parties involved, contract administration can be one of the most time-consuming areas of construction projects. Every subcontractor has a different contract, and every contract comes with lengthy lists of provisions that both the administrator and the contracted party have to review and sign off on.
Hiring a construction manager for your next project is the smart thing to do. As the project owner, it may be tempting to try and handle the demands of your project yourself, and save some money. However, construction managers often pay for themselves many times over. They help to reduce the headaches you have to deal with, streamline your project, and make sure everything goes as planned. So consider using a construction manager for your next capital project, you may find it's the right choice for you.